偏執症者 (Paranoid) unleashes 袋小路 (Fukurokouji), the second single from their upcoming album set for release on September 28th. 袋小路 (Fukurokouji) is pure hellish power erupted from the underground. With pummeling d-beat, killer riffs and deperate vocals 偏執症者 (Paranoid) is leading the way and there is no way out. Adding more metal to their influences that range from Swedish d-beat raw punk to Japanese hardcore set the band on the same path as early 80´s extreme metal band as Celtic Frost, Sodom or Possessed.  The new album "Heavy Mental Fuck-up!" is released by The Sign Records in Europe and by Konton Crasher in North America. 
Pre-Order the album "Heavy Mental Fuck-up!" here:https://freighttrain.se/en/the-sign-record/paranoid/
偏執症者 (Paranoid) have released their debut album Satyagraha and countless singles and EP´s. Releases have been made on labels as Svart, Southern Lord, D-takt och Råpunk and Konton Crasher. Tours have been done in USA, Canada, all over Scandivania, UK/Scotland and most of mainland Europe. The band is returning to the US for a new tour up on the album release. Members from 偏執症者 (Paranoid) are and have previously been active in bands such as Totalt Jävla Mörker, Desperat, Warvictims, Brottskod 11 and Hypertension that have brought us Swedish raw punk and speed thrash metal for more than a decade.
Cover artwork by Nicky Rat. Cover design and layout by Jocke D-desperate/Bom-Bom Ljud & Bild Produktion. Photos by Pontus Lindroth. Japanese translations by Motokazu Tsukuda.
We also have a special guest on the opening track "自警団 ". No less than Joel Militia (Absolut, Rammer).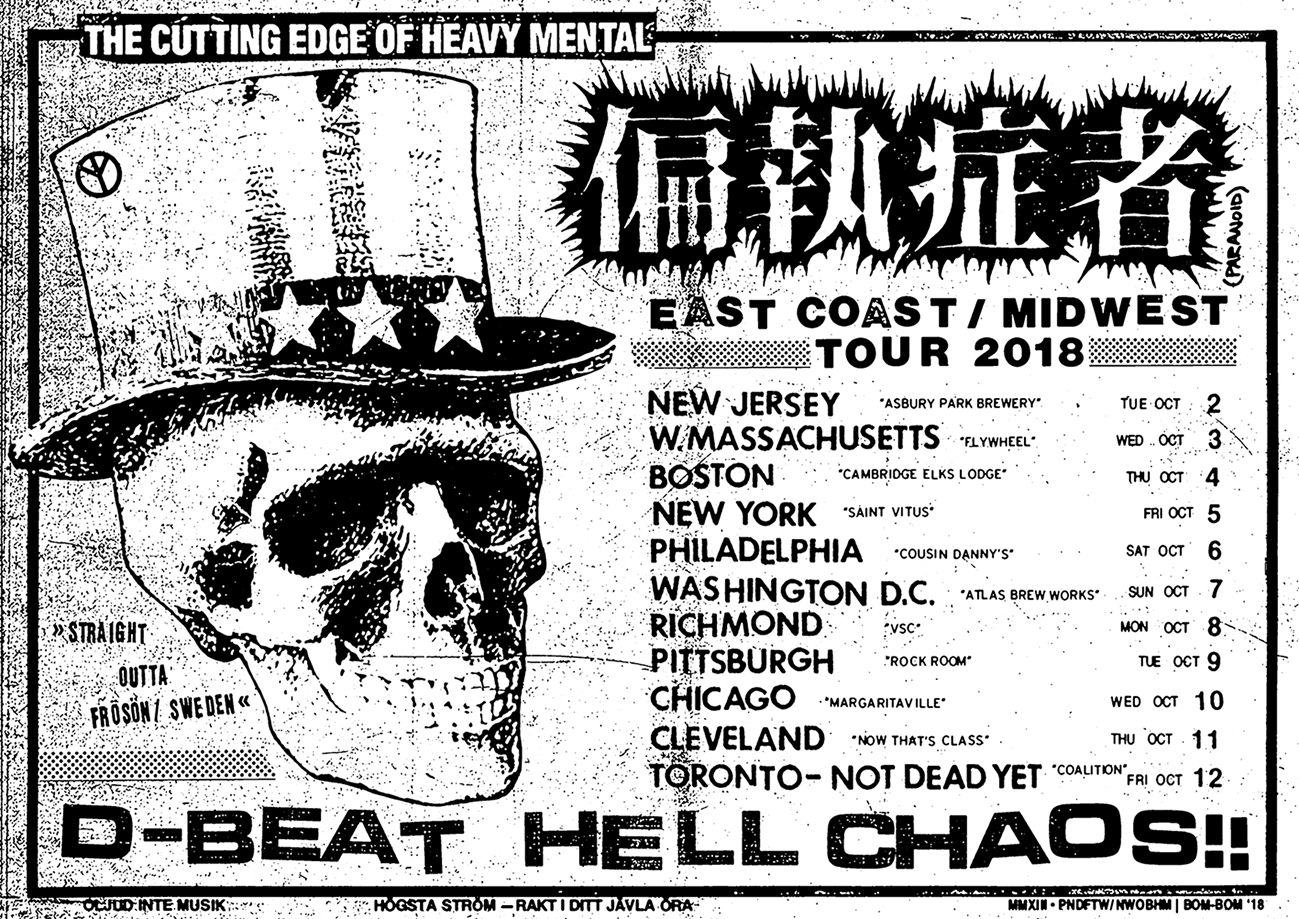 10/2/2018 – NEW JERSEY @ Asbury Park Brewery
10/3/2018 – WESTERN MASS @ Flywheel
10/4/2018 – BOSTON @ Cambridge Elks Lodge
10/5/2018 – NYC @ Saint Vitus
10/6/2018 – PHILADELPHIA @ Cousin Danny's
10/7/2018 – DC @ Atlas Brew Works
10/8/2018 – RICHMOND @ VSC
10/9/2018 – PITTSBURGH @ Rock Room
10/10/2018 – CHICAGO @ Margaritaville
10/11/2018 – CLEVELAND @ Now That's Class
10/12/2018 – TORONTO @ Not Dead Yet