Two Cuban hardcore and punk bands will set off on tour across North America, ARRABIO and ADICTOX will set off on tour this September.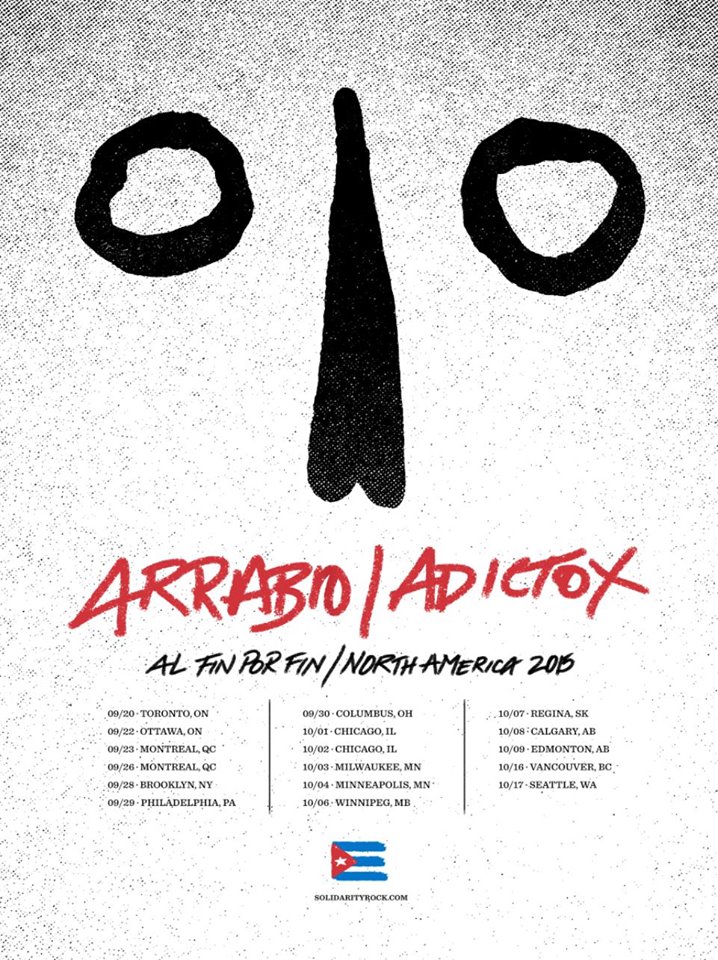 ARRABIO hail from Trinidad, Cuba, the jewel of the nation's Caribbean coast. The band has distilled a unique sound, carving their own spot in the international hardcore community after years in isolation.

Whereas, it was once illegal in Cuba to play or listen to rock n roll, this 4-piece has been at the forefront of creating a DIY rock n roll revolution in Cuba, a country hungry for something new. The band includes members of the original punk rock bands that first formed in the centre of the country in the mid 90's; who were instrumental in founding Solidarity Rock, an initiative which works to create cultural exchange with Cuban and foreign rock bands.
In partnership with Solidarity Rock, ARRABIO has toured Cuba several times with bands from Canada and the United States, as well as touring Canada in 2012 and US shows in 2013, playing shows with Agnostic Front, Death By Stereo and with xJUDGEx at the Black n Blue Bowl in NYC in May 2013.
Adictox are from Santa Clara, an important city in the story of revolutionary Cuba, it was the scene of Che's victory over government forces which ultimately won the war.

Adictox was formed from the demise of legendary band Eskoria, who were one of the early bands playing punk rock in tightly controlled Cuba.
Often acting as host band in Santa Clara's Club El Mejunje de Silverio, Adictox's shows feature wild crowds, trans-sexual back up singers and a message which can't be controlled. Adictox is carving out a space for punk rock in Cuba.
September 20 – Toronto, ON – Sneaky Dee's
September 22 – Ottawa, ON – House of Targ
September 23 – Montreal, PQ – Cagbi
September 25 – Montreal, PQ – Third Floor
https://www.facebook.com/events/772438782860143/
September 28 – Brooklyn, NY – Grand Victory
September 29 – Philedelphia, PA
September 30 – Columbus, OH – Legion of Doom
October 1 – Chicago, IL – The Liar's Club
October 2 – Chicago, IL – 2040
https://www.facebook.com/events/379533562256511/
October 3 – Milwaukee, WI – Bremen Cafe
October 4 – Minneapolis, MN – In The Heart of the Beast Mask and Puppet Theater
October 6 – Winnipeg, MB – Windsor Hotel
October 7 – Regina, SK – The Exchange
October 8 – Calgary, AB – Nite Owl
October 9 – Edmonton, AB – Brixx w/ DOA playing "Hardcore 81" at Up And Downtown Festival
https://www.facebook.com/events/1120514804644126/
October 16 – Vancouver, BC – Astoria
Jose Casanova
Visual Artist Jose Casanova from Sancti Spiritus, is a leader in the emerging contemporary art forms of tattoo and graffiti. His work has won him accolade in conventions and events across the country. He will be showing images of these art forms and talking about alternative culture at events on the tour.
To understand a bit more about Cuban punk/hardcore and its routes I would strongly advise listening to this: