We had a short chat with Zhenya of Masspollution from Belarus about the a Belarusian punk scene and what it has to offer in terms of D-Beat and about the roll of Masspollution in terms of the Belarus punk
Some years ago we already wrote a report about the Belarus punk scene. But some time has passed and there're a little changes. But first off I'll tell you the short story.
Independent DIY punk-scene appeared in Belarus in the mid 90s. First of all it has started up in two Belarusian cities: Grodno and Minsk. Grodno is a city that's located near the Polish border and all independent information had come from there. The first punk-rock band that became a generator of all the anarchist ideas was DEVIATION. Minsk is the capital of Belarus, therefore independent punk-rock appeared there quickly too, mostly with the help of a band called HATE TO STATE; bassist from this band was also busy with "NO MANIPULATION" distro and published "DON'T PANIC!" fanzine. And it's not surprising that these things helped developing and extending new DIY-ideas in the country. In the beginning of 2000s a set of different punk-hardcore bands has appeared. But in almost every case, these were bands which existed for a really short time, played just 1-2 gigs and then broke up not more than in a year. Sometimes they made a recording. There were many of them, but now almost everyone broke up. Today we don't have as many bands as for example on the period of 2003-2008. In that time bands were created even in the small towns. But some bands still exist, we have gigs and it's excellent!
What about MASSPOLLUTION… We were formed in March 2012 (almost 3 years ago). We're the first and only band who plays d-beat rawpunk in Belarus (and one of the only in Russia, Ukraine). This style is almost unknown and not popular.

Here're mainly fans of post-metal/rock, melodic hc-punk, clean and sleek "hardcore". There is just a few people who like and listen to hardcore-punk of '80s. And we don't have d-beat bands as i said before. But you can pay attention on the next Minsk bands which i like:
-PARTIYA (ПАРТИЯ) – old band (was formed in 2000), but they're still active. Play crust-punk/grind, have a lot of gigs and regular tours.

– RWAN (РВАНЬ) – fast and raw oldschool hardcore band with good political lyrics.

– БЫЧИЙ ЦЕПЕНЬ – deathpunk/post-punk. They're a quite young but very cool.

Also you can look up CIVIL BASTARDS, SOM 57, KAIN XVIII, I KNOW…     Sure, our scene has more bands, but in the most it's dully and insipidly.
Well, earlier almost all the punks had the anarchist ideas, took part in various actions etc. But they're not so politically active right now, but anyway the government hates when the people live like they want and have other point of view. It's not only punks, every social activist is under the threat. And as it seems, punk is "unofficial" and "unwelcome" thing. And when we show our activity, the government tries to suppress it by any means (the most popular method is the help of police). And as a result – arrests, repressions, raid on the gigs etc. So the only way of being punk is being "unofficial" and underground. DIY is a way of life for us, not just simple 3 letters.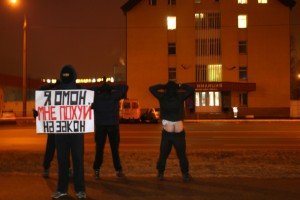 <A number of people were recently arrested at gigs in Belarus find out more on Belarus Anarchist Black Cross>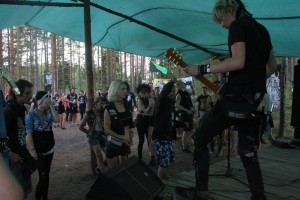 We have a few clubs where we can make a gig (in the main it's small bars). But it's for the cold season. When the weather becomes better, we go out to garages and forests. Total DIY, without stupid security guards and administrators!
<Going back to Masspollution….>
All the stuff what we released you can find at our bandcamp. Download there or write us for order or trade. You're always welcome! MASSPOLLUTION plans are simple: we recorded 3 new tracks and will make new 7inch EP for our upcoming tour. And can't say exactly, but i hope it will be Scandinavian one. Stay tuned and you'll get more info!

We start making a new fanzine (on Russian, maybe on English in the future). It will be a little about local scene, a little about foreign one. There's only DIY hardcore-punk and other stuff. So if somebody interested in it – write us. Also i decided to continue my own fanzine called DETONATOR (in the main it about noise rawpunk, crashercrust etc). I have vol. 1, but the stuff is not actual anymore. Fanzines are still cool! Make them a threat again! And finally… Hail to all the punks who read it! Stay tuned and be strong! Support DIY hardcore-punk not fake shit!
Contacts:
Zhenyas e-mail: squatyourself(a)gmail.com
Masspollutions e-mail: masspollutionrawpunk(a)gmail.com
Our Label 'Vomit Label': vomittaping.blogspot.com