Decimating Paris-based sludge/hardcore outfit, COWARDS, have completed the final stages of preparation on their second full-length and have now released the track list, cover art and a teaser for the upcoming LP.
As French hardcore sludgesters, COWARDS, prep their brutalizing Rise To Infamy LP for release this Winter, the track listing, cover artwork and a audio/visual teaser including the audio for the album's third track, "Frustration (Is My Girl)," courtesy of courtesy of Chariot Of Black Moth, has been issued. Merging visuals from the album's graphics with live footage of the band's scathing live delivery, the trailer is an apt depiction of what is to be expected from the ten soul-crushing anthems for outward annihilation the Paris-based quintet's latest album contains, its blackened vocals slashing through the bed of cutting riffage and hammering percussion.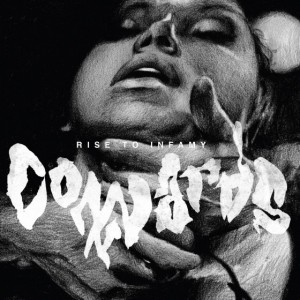 Rise To Infamy Track Listing:
1. Shame Along Shame
2. Never To Shine
3. Frustration (Is My Girl)
4. Beyond My Hands
5. Birth Of The Sadistic Son
6. Low Esteem
7. Anything But The Highroad
8. Wish For Infamy
9. Bend The Knee
10. So Easy
The hands running the machine at Chariot Of Black Moth are busy creating a new video for the album's next-to-last track, "Bend The Knee," which will be issued in the coming days, in addition to other COWARDS news and auditory intimidation.
COWARDS will dispatch Rise To Infamy on February 9th, with Throatruiner Records & RVINS Records producing the 12" LP version and Deadlight Entertainment handling the digipak CD.
Having been an unrelenting force since their inception in 2012, imposing their ruthless metallic hardcore/sludge through several vinyl releases to date, and having crushed live audiences all across Europe, COWARDS' latest works, Rise To Infamy, showcase the most punishing concoction of the band's Holy Terror/H8000 inspired-hardcore gone the route of blackened sludge metal savagery. Carrying a deep, oppressive urban coldness behind their spectacularly crushing wall of sound, the level of aggression spilled on Rise To Infamy is difficult to endure. Everything has been managed to inflict maximum aural damage; once again recorded by Francis Caste at Sainte Marthe Studio (Arkhon Infaustus, Eibon, Kickback) as with their previous output, the band's monstrous tones sounds colder and more massive than ever. This is nothing but a monument of down-to-earth, unvarnished violence, punishing from start to finish.
http://www.cowards.fr
http://www.facebook.com/cowardsparis
http://www.cowardsparis.bandcamp.com
http://www.cowards.bigcartel.com
http://www.throatruinerrecords.com
http://www.ruinsrecords.com
http://www.deadlight.fr