Washington DC's purveyors of occult infused doom / crust ILSA, will be releasing their fourth full length album: 'The Felon's Claw' in May of 2015 on Deluxe 2 x12″ / CD / Digital formats via A389 Recordings.
Recorded by Kevin Bernsten (Developing Nations) and mastered by Brad Boatright (Audiosiege), 'The Felon's Claw' offers a diverse set of ten songs boasting the heaviest studio production on any ILSA release to date. The artwork was created by drummer Joshy Brettell (whom has also created artwork for Hooded Menace, Genocide Pact) and put together by Dwid Hellion (Integrity) to create a unique gatefold 2xLP pacage yet to be attempted on any A389 Release.
Stay tuned for album premiere / preorder details and in the meantime check out the track '25 Cromwell' from the upcoming ILSA 'The Felon's Claw' release.
And check out the video of ILSA's set from the A389's XI Anniversary Bash in January of 2015 (includes new LP songs) c/o Hate5Six.com

ILSA SPRING 2015 TOUR DATES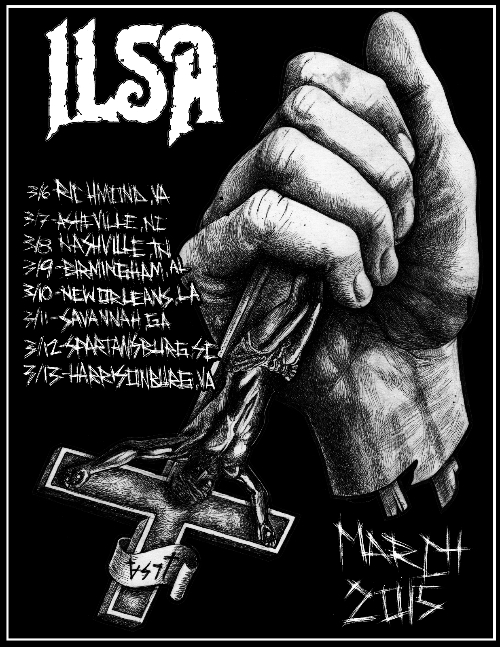 03/06/2015 Richmond, VA @ Wonderland
03/07/2015 Asheville, NC @ The Odditorium
03/08/2015 Nashville, TN @ Hymen House
03/09/2015 Birmingham, AL @ Bottletree Cafe
03/10/2015 New Orleans, LA @ Sisters In Christ
03/11/2015 Atlanta, GA @ Drunken Unicorn
03/12/2015 Spartanburg, SC @ Ground Zero
03/13/2015 Harrisonburg, VA @ Crayola House
04/25/2015 Washington, DC @ Mary Graydon Center
(w/ REPULSION. Noisem and more)