With the impressive line up that is Temples Festival that has been pulled together this year as well as last year. Temples Festival is one that is hard to ignore especially considering they are 100% Independent with No Sponsors, No Masters. To look at the line up they have pulled together Converge, Sunn O))), Earth, Skitsystem, Nails,  Martyrdod, Harm's Way…..(check out line up below) So we asked a few short questions to Temples. You can follow Temples Festival on Facebook and check out the website for more information
I guess first off who are what is Temples Festival? Apart from being a festival with a kick ass line up?
We're an independent festival, run by a small collective of experienced music promoters who have a passion for heavy music!
How did Temples Festival go from 0 to 60 in its first year? The line up was crazy to say the least!!
I worked extremely hard to get the bands I wanted, it took a lot of hard work but it was 100% worth it. After years as a promoter I've built great relationships with certain bands and so we were able to lock in a strong line-up based on our previous dealings.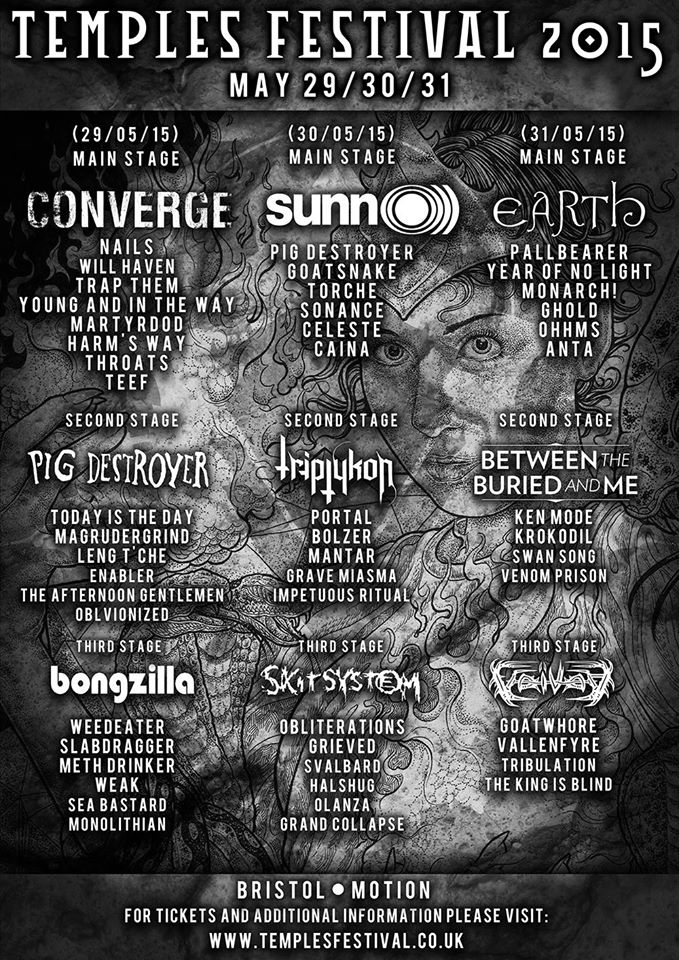 How do you even manage to try to re-create or out do last years line up having set the bar so high within the first year?
My goal is to switch things up every year, whilst still catering for an audience who have a passion for underground bands – most of whom are rarely seen in the UK. Each year will see bands of different genres creep in here and there, the aim being to be as diverse as possible and book bands I'm heavily in to!
Temples fest is 100% Independent with no sponsors for the festival, this is not something easy to do. Did you feel this is an important part of Temples?
Absolutely, I have a distain for branding of all kinds and I feel its something which has slowly crept into music. Unfortunately some of the brands who have become prominent peddle revolting products who are owned by ethically questionable corporations and so we have a strict policy of steering clear of all said brands!!
Would you have anything to say to anybody heading to this years festival?
Be prepared for absolute carnage when NAILS hit the stage, and, we're expecting you……..
Check out Temples Festival on:
Facebook
Website for more information