So new post ounding up news fom the last week or so this time featuring news from Adrestia, War/Plague, Warwound, LIFE, Zudas Krust
Debut album from Swedish crustcore act Adrestia is the follow up to their split 7″ Martyrdod which was a benefit for Rojava that is well worth looking into and you can read up on the benefit (In Solidarity With Rojava – MARTYRDÖD / ADRESTIA split 7″(which I have copies of in distro) The Art of Modern Warfare features eleven tracks of killer hardcore crust. ex-members from bands like Shades Of Grey, Future Ruins or Snake Tongue.

On the back of the release of their debut LP Adestia will be heading on tour whose schedule is featured below: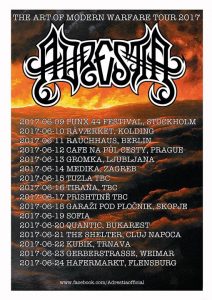 FRIDAY 2017-06-09 STOCKHOLM PUNKS 44 FESTIVAL
SATURDAY 2017-06-10 RÅVÆRKET, KOLDING
SUNDAY 2017-06-11 RAUCHHAUS, BERLIN
MONDAY 2017-06-12 CAFE NA PUL CESTY, PRAGUE
TUESDAY 2017-06-13 GROMKA, LJUBLJANA
WEDNESDAY 2017-06-14 MEDIKA, ZAGREB
THURSDAY 2017-06-15 SARAJEVO/TUZLA, TBC
FRIDAY 2017-06-16 TIRANA, venue TBA
SATURDAY 2017-06-17 TERMOKISS, PRISHTINA
SUNDAY 2017-06-18 GARAZI POD PLOCNIK, SKOPJE
MONDAY 2017-06-19 SOFIA, venue TBC
TUESDAY 2017-06-20 QUANTIC, BUKAREST
WEDNESDAY 2017-06-21 THE SHELTER, CLUJ NAPOCA
THURSDAY 2017-06-22 KUBIK, TRNAVA
FRIDAY 2017-06-23 GERBERSTRASSE, WEIMAR
SATURDAY 2017-06-24 HAFERMARKT, FLENSBURG
War/Plague have unleashed their tack Disease on bandcamp which featured on their split with Axegrinder, UK who released their first new recording in over 10 years 'My Plague Queen' which came out on RSD last week on 'limited edition' of 500 copies. Anyway check out the very prolific War/Plague who offer up their latest blend of metallic crust.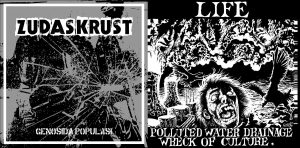 Life / Zudas Krust split 7″EP
LIFE hailing from Tokyo, Japan and their name stands for "Liberty Independence Freedom Equality" offer up two tracks of blown out crust,
while on the flipside ZUDAS KRUST is a fast noisy dbeat out of Jakarta, Indonesia. Offers three songs of raging noise inferno hardcore punk.

Warwound have released a lyric video for a brand new song from their forthcoming LP, 'Burning The Blindfolds Of Bigots' due out on Unrest Records in June. This will be their fist full length LP having previously done releases with the above mention War/Plague and a demo way back in 1983 but with a new line up of Damian Thompson now on guitar and Rat Varuker on vocal, Ian Glasper on bass and Steve Wingrove on drums this impressive line up makes this fothcoming album very interesting.