Going to run down news rather than make individual posts I think it might be a bit easier on getting news and also getting out other little snippets also will post some news I have to catch up on, so here is some news on  Disfear, Desperat, Enzyme, Exhaustion and Wolfbrigade.
Wolfbrigade's Run With The Hunted, as made its way online the new 10 track 12″ is out now on Southern Lord, it is raw as fuck and dripping with vitriol with Sweden lycanthro punks sounding as powerful as ever.

WOLFBRIGADE Tour Dates:
6/10/2017 SMSF Fest – Beja, PO
7/02/2017 Kraken – Stockholm, SE
7/06-08/2017 Obscene Extreme – Trutnov Battlefield, CZ
7/06-08/2017 DIY Fest – Gdynia, PL
8/04-06/2017 Wacken Open Air – Wacken, DE
8/04-06/2017 Het Bos – Antwerp, BE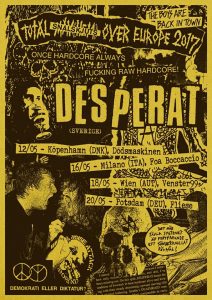 DESPERAT will be doing a short run of dates in Europe this May as they hook up with Mob 47 and 偏執症者 for a few gigs in Europe who share mostly the same members with the exception of Johan who departed from Mob 47 last year
12/5 – Copenhagen, Ungdomshuset
16/5 – Milano, Foa Boccaccio
18/5 – Vienna, Venster99
20/5 – Potsdam, Fliese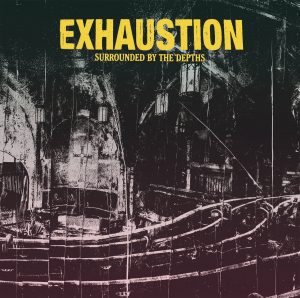 Exhaustion from France, taking influences from both sides of the Atlantic deliver an unforgiving hardcore assault. With 'Surrounded By The Depths' containing 12 tracks which weaver through many facets of hardcore bring medley of Scandinavian Kang punk, with the ferocity of Japanese hardcore, with a crushing sound similar to that of World Burns To Death and Deathraid. Simply put the Caen outfit are ones to watch this year as 'Surrounded By The Depths'is out on Distro-y Records and Destuctue Records

ENZYME Raw noize punk from Australia elease their debut 7″ Abuse Of Power on Crust War/Hardcore Victim two weeks ago, as I said this all recap of things that have happened or will happen, but check it out it is geat. Features members of Pisschrist who are playing Manic Relapse Fest this weekend in the US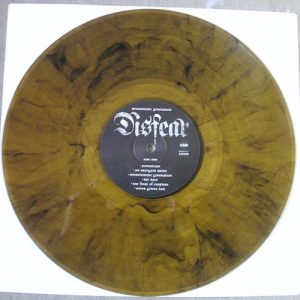 Disfear's Misanthropic Generation LP has been repressed by La Familia Records, Those not familiar with Disfear should be ashamed of themselves – you probably have been hiding under a rock for more than 25 years. Swedish hardcore in its purest form, "Misanthropic Generation" is a maturation, modernization and perfection of Discharge's music from back in the '80s. With a blazing pace, Entombed-ish guitar/bass riffing meeting the banshee vocalism of Tomas, supported by wickedly groovy Motorhead-style drumming – masturbation for the mind, one might call it. There´s a small amount of the yellow/black marbled vinyl availble.