The ever hard working PRIMITIVE MAN touring schedule has led to them combining them all as World Tour in 2016. Check their immense schedule below:
PRIMITIVE MAN are touring the world with some great bands.
We realize this isn't the WHOLE world, but if you want us to come to your city, town, country whatever, email:

Primitivemandoom@outlook.com
We have posted dates and tour poster below: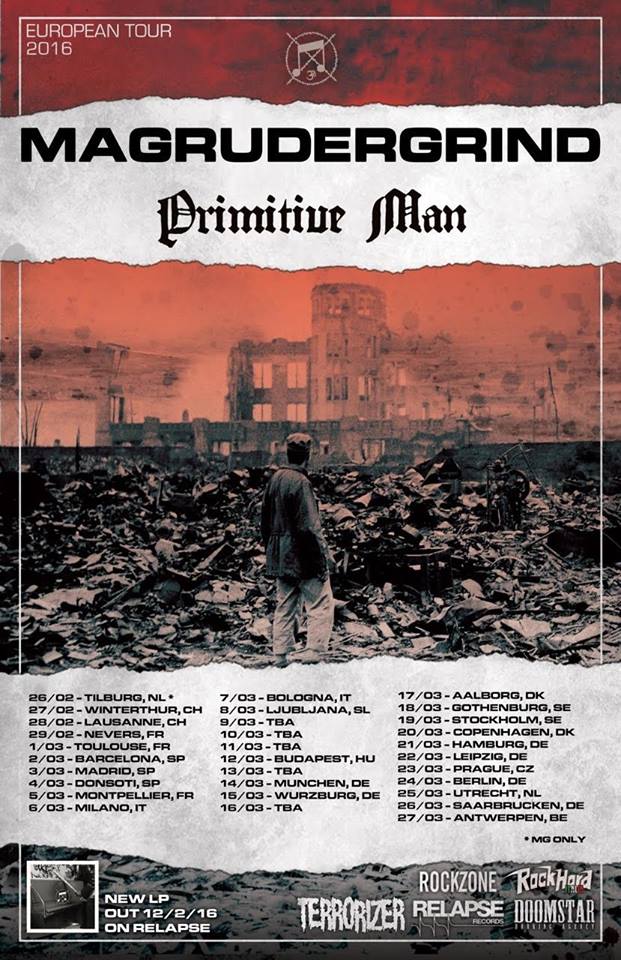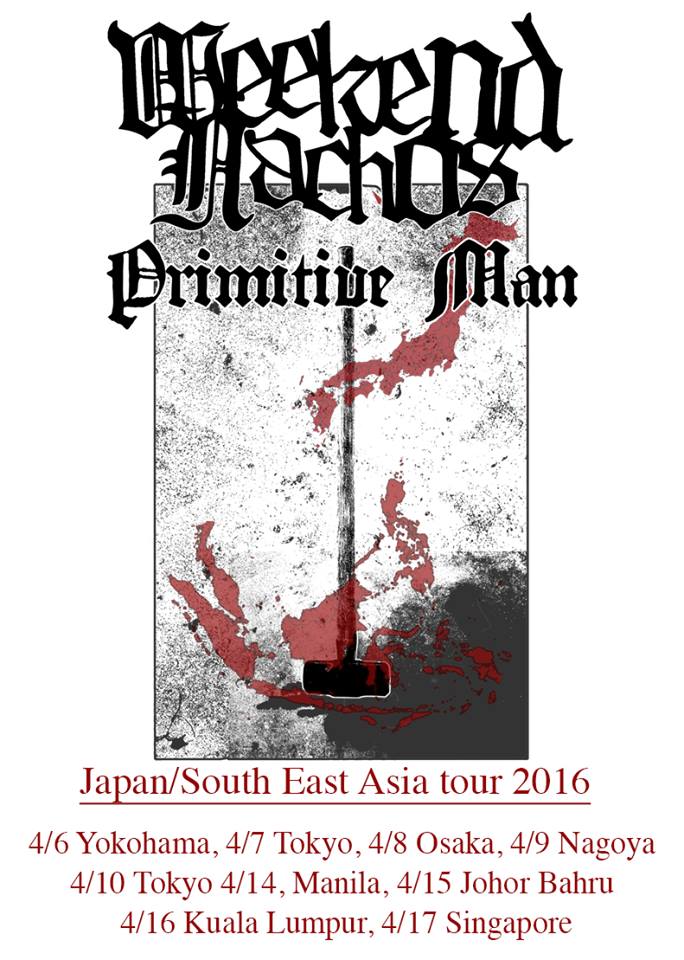 Van Wheels rollin' like dice, amp tubes shinin' like ice.
2/20/16- Denver, CO @hi-dive DAD FEST 2015 W/ Christworm & More!
Magrudergrind/Primitive Man 2016 European Tour
27/02/16 – Wintertur, CH @ Gaswerk
28/02/16 – Lausanne, CH @ Le romandie
29/02/16 – Nevers, FR @ Cafe Charbon
1/3/16 – Toulouse, FR @ Pavillion Sauvages
2/3/16 – Barcelona, SP @ Rocksound
3/3/16 – Madrid, SP @ Baracudas
4/3/16 – Donostia, SP @ Mogamos
5/3/16 – Montpellier, FR @ Secret Place
6/3/16 – Milano, IT @ Lo Fi
7/3/16 – Bologna, IT @ Freakout Club
8/3/16 – Ljubljana, Sl @ Gromka
9/3/16 – Kosice, SK @ Collosseum
10/03/16 – Cluj Napoca, RO @ Shelter
11/03/16 – Bratislava , SK @ Fuga
12/03/16 – Budapest, HU @ Durer Kert
13/03/16 – Linz, AT @ Kapu
14/03/16 – Munich, DE @ Feierwerk
15/03/16 – Wurzburg, DE @ Immerhin
16/03/16 – Rostock, DE @ JAZ
17/03/16 – Aalborg, DK @ 1000 Fryd
18/03/16 – Gothenburg, SE @ Truckstop Alaska
19/03/16 – Stockholm, SE @ Bergsunds Strand 43
20/03/16 – Copenhagen, DK @ Pumpehuset
21/03/16 – Hamburg, DE @ Hafenklang
22/03/16 – Leipzig, DE @ Westwerk
23/03/16 – Prague, CZ @ ModraVvopice
24/03/16 – Berlin, DE @ Cassiopeia
25/03/16 – Utrecht , NL @ DB's
26/03/16 – Saarbrucken, DE @ Garage
27/03/16 – Antwerp, BE @ Het Bos
28/03/16 – Paris, FR @ Le Pub ADK
W/ Morbid Evils
30.3.2016 Lahti, Roosterburn (Torvi): Primitive Man (US), Morbid Evils, Cut to Fit
31.3.2016 Helsinki, Loose: Primitive Man (US), Morbid Evils
W/Rotten Sound
1.4.2016 Jyväskylä, Katse: Primitive Man (US), Rotten Sound
2.4.2016 Turku, Klubi: Primitive Man (US), Rotten Sound, Sunniva
WEEKEND NACHOS/PRIMITIVE MAN Japan & South East Asia tour 2016
W/ Endzwreck & Fight it out
4/6 Yokohama
4/7 Tokyo
4/8 Osaka
4/9 Nagoya
4/10 Tokyo
SE Asia w/ Tools of the Trade, Wormrot
4/14 Manila, Philippines
4/15 Johor Bahru, Malaysia
4/16 Kuala Lumpur, Malaysia
4/17 Singapore, Singapore
Primitive Man/Sea Bastard UK tour 2016
June
2nd
3rd
4th
5th
6th
7th
8th
9th
10th
11th
12th
PRIMITIVE MAN
w/ CULT LEADER, OF FEATHER AND BONE
6/19 Laramie,WY@TBA
6/20 Omaha,NE@TBA
6/21 Sioux Falls,SD@TBA
6/22 Minneapolis, MN@TBA
6/23 Milwaukee, WI @TBA
6/24 Madison,WI @Forbidden PleasVrVes
6/25 Peoria,IL@TBA
6/26 Toronto,ON@TBA
6/27 Montreal,QC@TBA
6/28 Portland, Maine@TBA
PRIMITIVE MAN/DRAGGED INTO SUNLIGHT U.S. tour 2016
29th Bar, New Haven, CT~
30th Middle East Upstairs, Boston, MA~
July
1st Bell House, Brooklyn, NY*~
2nd The Haunt (ONE FEST), Ithaca, NY*
3rd Kung Fu Necktie, Philadelphia, PA*
5th Now That's Class, Cleveland, OH*
6th Reggies Rock Club, Chicago, IL*
7th Fubar, St. Louis, MO*
8th Riot Room, Kansas City, MO*
9th Bluebird, Denver, CO*
10th Metro Bar, Salt Lake City, UT*
11th Shredder, Boise, ID*
12th Highline, Seattle, WA*
13th Panic Room, Portland, OR*
14th Starlite Lounge, Sacramento, CA*
15th Golden Bull, Oakland, CA*
16th Complex, Los Angeles, CA*
17th Club Congress, Tucson, AZ*
18th Mesa Music Hall, El Paso, TX*
19th Paper Tiger, San Antonio, TX#
20th Three Links, Dallas, TX#
21st Siberia, New Orleans, LA#
22nd The Earl, Atlanta, GA#
23rd Kings, Raleigh, NC#
24th Strange Matter, Richmond, VA
~ w/ Churchburn
* w/ Cult Leader
# w/ MAKE
W/YAUTJA
7/25-Memphis, TN@tba
7/26-Nashville,TN@tba
7/27-Little Rock, ARK@Vino's