Halvfabrikat Records set up back in 1999 earlier this year Halvfabrikat opened up a record shop in May. We asked Danne from Halvfabrikat to tell us a bit about their new shop. For those of you who don't know Halvfabrikat Records , is an anarcho-crustpunk label from Sweden who have a large back catalog of all our favourite hardcore bands such as Passiv Dödshjälp, Contorture, Misantropic and many more with M:40 – Bär mig till bikten 7″ out October 17th. You can order online from Halvfabrikat Website or shop at  http://www.halvfabrikat.net/store/
Why set up a shop and where did the idea to set up a shop come from? Is there a large punk community in the area just begging for a shop to open or was it a place where you could just store your distro as well as have it on physical show?
The idea of a store is that people have been visiting where we lived at an apartment in the past. The problem here was really two sided; the records were so cramped together so that you couldn't really find anything, plus you really couldn't move around in the tiny room. I literary had piles of records nearly as high as the ceiling in that small room, plus bookshelves on all walls. I had to make paths between all boxes to the computer and to the LP player. The other thing that was our concern was that we didn't really know some of the people coming. I solved this so that if anyone wanted stuff from Halvfabrikat I picked the stuff wanted. Now, it's much more fun to browse at your own pace through bins of LPs, EPs, CDs and assorted merch. So, the idea of the store arose when we moved to a house and where there was room that was not really needed for us as a family in the basement. The store is actually just one room. This room was renovated and then we built all bins for LPs, CDs and even a counter from scratch.
Do you open 9-5 everyday? or when you feel like it, if so how do you let people know when the shop is open? The record shop is in a basement is it just a basement of your house and people just knock at your front door and you open the shop then or how do you work it?
Initially I did have regular opening hours on Saturdays, mainly 2pm to 4pm. Now, it's pretty tough to keep this up when having three kids and other things that require your attention, so now the store is open when people wants it to be. Those who come usually send an e-mail, phone my cell, or send a facebook message. I work full time but on weekday nights or on weekends, there are no problems for me to keep the store open anytime.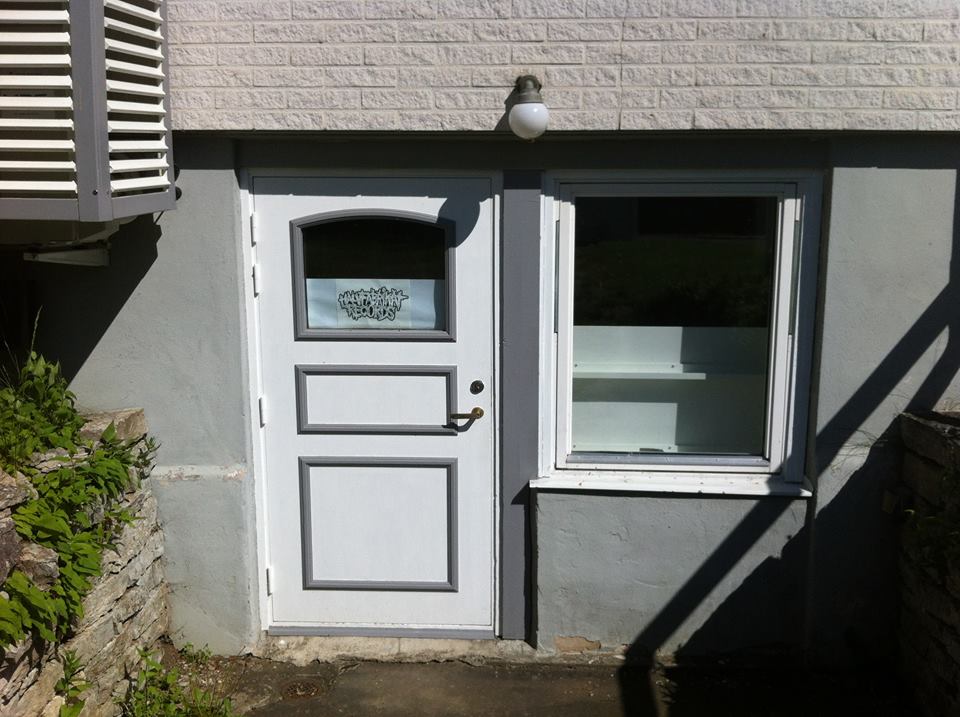 What is the reaction to local people who may just wander in thinking you are a normal record shop? And have you found the shop has brought you in contact with a lot more people you may not have known were into punk/hardcore?
So far there has been no persons wandering in without knowing what Halvfabrikat Records is doing. I do believe the store itself bonds people together. I have met some people I never talked to before in the store. I do believe there is also a strong bond to others who sell records in physical stores if they know I do, especially between vinyl stores.
Any plans for expansion or turning the shop into a large international franchise?
No, there are no plans of expansion. I want to develop the store more, of course, but this store will be the place to go to even in the future.